8 Tips from a Manned and Unmanned Pilot for Safely Flying a Drone in Extreme Weather Conditions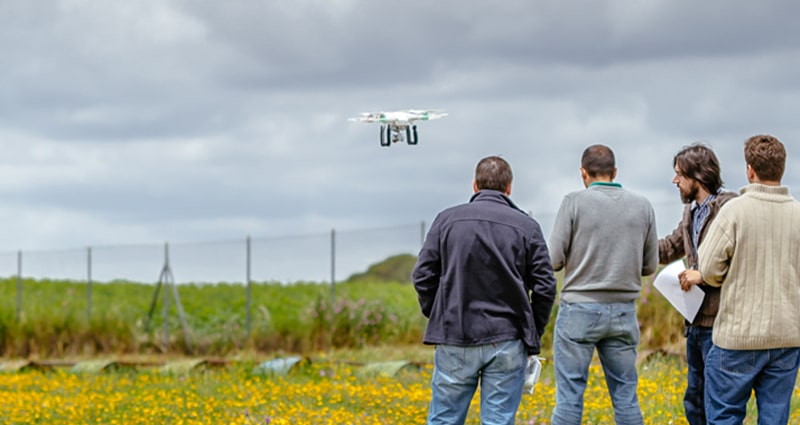 As the drone industry and FAA drone regulations expand, more and more industries are finding use cases to launch drones for daily operations. Some of these missions, of course, take place in extreme weather conditions.
Many types of small unmanned aircraft systems can tolerate and perform well in a wide variety of environments. However, in order for drone pilots to safely and successfully fly a drone in extreme weather conditions, it's critical that they are prepared and have a plan in case of an emergency situation.
1. Aim to keep your batteries at room temperature.
Don't leave your drone batteries, or other accessories/equipment, in a car that is too hot or too cold. Batteries that are kept at room temperature will last longer and perform better. If flying a DJI drone, your software will tell you if your battery temperature is too hot or too cold, and may even prevent you from launching your drone.
2. Break up your flight missions into multiple sections and have a plan for each.
When flying in high wind conditions, extreme temperatures, or other environmental conditions that place additional stresses on your drone, your equipment, and yourself, don't try to cram everything into one flight. It's important to not only break up your flight, but to also have defined goals and objectives that are manageable.
3. Check with your drone manufacturer for the operating temperature specified for your platform.
Most small unmanned aircraft systems will have a manufacturer-provided operating temperature range. It may be possible to safely fly your drone outside of these "ideal" temperatures. However, you should plan for reduced flight times and monitor your flight display closely for changes in your system's status over the course of the flight. Remember, if your flight display is a phone or tablet device, these are also subject to overheating or reduced performance in extreme temperature conditions.
Also, remember your personal wellbeing and the wellbeing of your crew members. Be sure to dress appropriately for the conditions and stay hydrated on those hot summer days.
4. Avoid flight areas where you can't land the aircraft immediately.
It's rare that we have a say in the exact layout of our flight areas. However, if you can modify your flight plan to maximize your time over areas that are safe to land, the chances of you being able to safely perform an emergency landing at an alternate landing site in the event of an unplanned incident is much higher. Always plan your flight profile with both your flight objectives and environmental factors in mind.
5. Consider purchasing battery heaters and gel cooling packs.
Flying regularly in extreme conditions sometimes requires specialized equipment to keep our sUAS, crew members, and ourselves in top working condition. For extreme cold weather conditions, DARTdrones Flight Instructor Christina Martinez recommends hot pads and heated cases. While flying a drone in -6°F weather for Super Bowl LII, Martinez stated, "We strapped hot pads to our iPads, put hot pads in our remote mitts (a definite must to maintain dexterity while flying), and kept our drone and batteries in heated cases."
6. Pay attention to the wind conditions and wind direction.
High winds can have a major impact on the flight of an sUA. In addition to having firm maximum acceptable wind speeds built into your Preflight Assessment, it's also wise to position your primary takeoff and landing zone downwind of the area of operation. This way, you will be maneuvering your drone into the wind to approach the area when the power levels are high, and you will be able to easily drift with the wind back to your landing zone when the batteries are low.
Also, be sure to know what the weather forecast for the day is, as well as the current conditions. An advancing front can cause drastic changes in wind speed and direction in a matter of minutes or even seconds. Do not get caught off guard!
7. Increase stand-off distances if possible.
Be cautious when flying close to structures in high wind conditions. Turbulent air currents can form around structures that will potentially push or suck your sUA into harm's way. If possible, forego close proximity flight on these days and use systems with adequate power to maintain position in the stronger winds. It's also helpful to use zoom cameras to capture the necessary imagery while the drone remains at a safe distance.
8. Bring along a Visual Observer.
Flying in demanding weather conditions is a prime example of a time when it may be wise to utilize a Visual Observer, even if the regulations don't require it. When your system is operating at the edge of its capabilities, the chance of small complications arising during flight is significantly increased. An extra set of eyes dedicated to watching the sUA for proper positioning and erratic in-flight behavior can be the difference between a safe and successful flight, and a costly accident.
Real-World Scenario Training
At the end of the day, the overall success of any sUAS flight depends on the ability of the drone pilot to properly assess their operating environment, and configure and operate their aircraft system with an expert level of proficiency. This is something that can only be achieved after establishing a solid foundation of instruction.
Along with the above tips for safely flying a drone in extreme weather conditions, it's important for drone pilots to invest time in practical field training. DARTdrones offers 14 online, interactive micro courses covering topics such as Battery Care and Safety, Real-World Weather Assessment, and Emergency Procedures Response. Get free access to the online Site Assessment micro course.
About the Author
Colin Romberger is the Chief Pilot at DARTdrones and graduated from Embry Riddle Aeronautical University as one of the first 5 students to earn a Master's Degree in Unmanned Aircraft Systems, with a focus in Flight Operations and Systems Design. Colin also holds multiple FAA Airman Certificates for manned aircraft operations. At DARTdrones, Colin is responsible for ongoing instructor development initiatives as well as the coordination of sUAS Operations Consultation Services tailored to the specific use cases and operating environments of our corporate clients in numerous sectors such as oil & gas, utilities, engineering and more. He has consulted with these companies and organizations on their use of sUAS for a cross section of purposes. Colin also runs his own drone services company specializing in mapping and inspections. DARTdrones was featured on ABC's Shark Tank in February 2017.

DARTdrones
DARTdrones, the nation's leading drone training company and new Global Aerospace SM4 partner, offers courses in 40+ cities across the U.S. DARTdrones offers basic flight training classes, Part 107 Airman Knowledge test prep courses, advanced industry specific training, and UAS program implementation consulting services. DARTdrones has been helping individuals and organizations develop safe and efficient sUAS programs and continues to keep new and developing safety considerations at the forefront of their curriculum development. For more information, visit us or call the team at 800-264-3907. DARTdrones was featured on ABC's Shark Tank in February 2017.
http://www.dartdrones.com
© 2023 DARTdrones. All Rights Reserved.
Next Article
Related Posts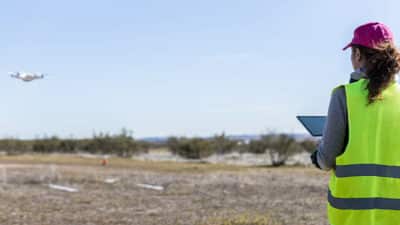 As a licensed drone pilot, you can fly commercial missions, embark on exciting new adventures, hone your skills and earn money. Your Part 107 license is an important start on your training journey. However, additional training beyond Part 107 is crucial. You should invest in your future and strive to become the best drone pilot you can be!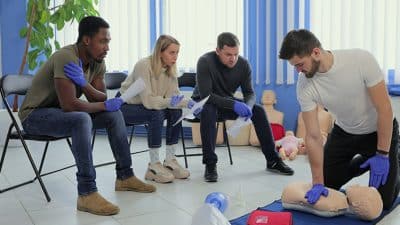 By 2030, the global eVTOL aircraft market will transport 27 million passengers. Some vehicles will have a single pilot, while others will operate remotely or autonomously with only civilian passengers. Therefore, the companies commercialising this space have a duty of care to their employees and customers to ensure the safety of all on board.