Welcome to the 2023 Community of Excellence
The SM4 Community of Excellence delivers unmatched service to the aviation industry. The unique quality of aviation safety resources found in the innovative SM4 program is the result of the combined expertise of the program partners. The extensive training and response knowledge possessed by these individuals and organizations provides a 360-degree view of aviation safety and risk management.
The 2023 SM4 Program includes an emphasis on business aviation's challenges in attracting, developing and retaining new professionals who can safely manage, maintain, service and fly business aircraft into the future.
The Community of Excellence provides three complimentary levels of service:
Level I – Complimentary Industry Resources via the SM4 website, newsletter, seminars, etc.
Level II – Online Safety Learning Management System (LMS): Available to all Global Aerospace general aviation clients in the U.S. and select Canadian clients (excluding light aircraft and UAS).
Global Aerospace and the SM4 partners have developed a customized safety LMS that is designed to provide advanced training solutions for the current and next generation of aviation personnel. Global Aerospace clients are provided with the tools and knowledge to further develop their understanding of safety management, professional performance and support their continuous improvement.
Level III – Exclusive Services for Global Aerospace Elite Clients in the United States
Global Aerospace Vista Elite clients meet the highest operating safety standards and qualify for a comprehensive SWOT analysis of their flight department. After a thorough review of the analysis, clients will be presented with customized safety service offerings from one or more of the SM4 partners. The Level III program is focused on our clients' needs and provides unique safety programs to help them achieve their goals.
​
SM4 Safety Partner Video Library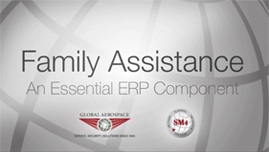 Learn more about the unique capabilities, expertise and SM4 direct services provided by our program partners. The extensive training and response knowledge possessed by these individuals and organizations provides a 360-degree view of aviation safety and risk management. Visit The SM4 Partner Video Library