| | | |
| --- | --- | --- |
| | SM4 Safety Resource Bulletin | |
NEWS & RESOURCES FOR A SAFER AVIATION COMMUNITY
SM4 PARTNER FEATURE
Are You Ready for Thermal‐Runaway?
You surely remember the Japan Airlines B‐787 that caught fire while sitting on the ramp in 2013. Thus began the industry's introduction to thermal runaway and the slow and difficult task of educating travelers and flight crews. The question now is whether you are prepared to deal with this threat. Read More
Download the Fireside Whitepaper
Vetting and Selecting a Supplemental Lift Provider
Many organizations that operate their own aviation assets will, at some point, need the services of a supplemental lift provider (SLP) to augment their capabilities. However, selecting an SLP is no simple task. Learn More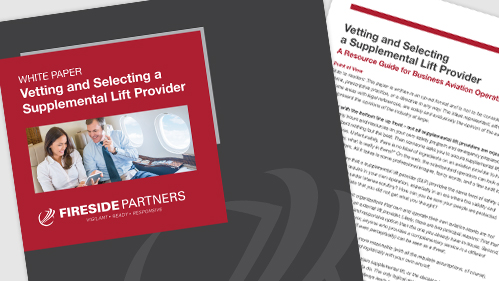 News & Events
Events
Oct. 15, 2018: NBAA Single-Pilot Safety Standdown
Orange County Convention Center – Orlando, FL
9:00 a.m. – 2:00 p.m
Learn More and Register

Oct. 16 – 18, 2018: NBAA Business Aviation Convention & Exhibition (NBAA-BACE 2018)
Orange County Convention Center – Orlando, FL
Fireside Partners, Satcom Direct and Global Aerospace Presenting

SM4 Partner Sessions
Oct. 16, 2018 at 10:30 am: Panel Session – Vetting your Supplemental Lift – Don Chupp (Fireside Partners) and Frank Turtola (Global Aerospace) participating.

Oct. 17, 2018 at 1:00 pm: Session – Cyber Security Made Simple – Satcom Direct
Learn More and Register

Oct. 18, 2018: NBAA Safety Forum 2018
Orange County Convention Center – Orlando, FL
9:00 a.m. – 1:00 p.m.
Full Agenda

SM4 Partner Sessions
Session: It All Begins with You! Human Factors and Aviation Safety
Convergent Performance Presenting: Dr. Tony Kern's keynote address will stress the importance of understanding the role of human factors play in how we operate and maintain aircraft.
9:25 am – 10:00 am

Session: The Human Equation
Pulsar Informatics Presenting: Dr. Daniel Mollicone will be participating in a symposium lead by Capt. Greg Farley. The symposium will discuss Fitness for Duty and fatigue risk factors.
11:10 a.m. – 12:00 p.m.


Session: High Performance Leadership and Professionalism
Convergent Performance Presenting: Dr. Tony Kern will be participating in this session which will entail a comprehensive look at how leadership and professionalism can have a profound impact on safety.
12:00 pm – 1:00 pm
Learn More and Register
A Safety Investment Initiative of Global Aerospace