The Global Aerospace 2013 SM4 Safety Poster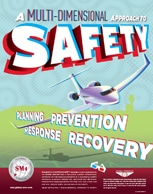 Our new poster provides a dynamic tool you can immediately use to enhance the safety promotion component of your safety system. It is also a visually engaging reminder of the continuous cycle of safety that serves to protect you and maximize your organization's productivity. There is no requirement for you to be a Global Aerospace client to order this poster. Global Aerospace makes this investment in providing safety tools to the aviation community. Download the PDF.
2012 Poster Series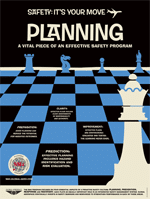 This poster is designed to remind your team that a systematic approach to planning is an essential part of your safety program. When you plan appropriately, you take the time to consider multiple potential outcomes. In that way, a plan helps your program become predictive, not merely reactive. The process of effective planning strengthens your organization by reinforcing responsibilities and authorities. Clarity, Preparation, Improvement and Prediction: these are key parts of a truly effective approach to planning. Download the PDF.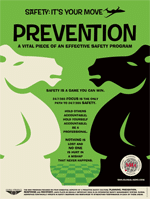 This poster reinforces our belief that you and your team can create a prevention-oriented approach to safety that drops your risk to a point that is as low as practical. Safety is a game you can win. Your approach must be broad in its scope because it must lead to safety not only in the aircraft but also on the maintenance floor, in the dispatch office and in your car during your daily commute. A 24/7/365 focus is the only path to 24/7/365 safety. This poster will also help you and your teammates remember that accountability and professionalism are the keys to prevention. Because nothing is lost and no one is hurt in a mishap that never happens. Download the PDF.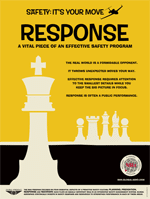 Just when you think you have it all figured out, something will happen to remind you that you might not have all the answers. Pay attention to the details but also keep a focus on the big picture. This poster also serves to remind safety leaders that every response is viewed under a spotlight. How you respond will be seen by your teammates and potentially by people outside your organization. Response is often a public performance. And that can be a good thing. Download the PDF.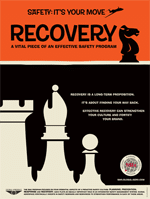 This poster will serve to remind your team that recovery is one of the primary goals of your safety system. Your program exists to predict and avoid mishaps. But when they occur, your culture is strengthened when you create an effective incident recovery process. Your recovery plan and process differs from your immediate response to mishaps because you must think long-term. Effective recovery, in some cases, may take years. Use of all available resources is essential. Develop a cooperative relationship within your organization and with all the available support organizations in your community. Download the PDF.