A Pilgrim's Encounter with Just Culture
September 26, 2012
This is a post for my friends and colleagues in the aviation and safety world.
On Tuesday morning I was standing in the drizzle on the Ladstuhl  train platform. Ladstuhl is the closest village to Ramstein Air Force base (Germany). I  was deposited at Ramstein via C17 from McChord AFB. If you care about why I was hitch hiking on an Air Force cargo flight you can check out my blog at www.walkthewaywithlj.wordpress.com
Anyway, there I was waiting for a local train which I hoped to use to for an eventual connection to Paris and points south.
As I tried to figure out how to snag a ticket out of the single automated dispenser,  a fellow American with local knowledge took pity on me. He walked me through the ridiculously simple process and afterward we struck up a conversation.
He was a pilot. Not unusual; pilots are plentiful around Ramstein.  But this pilot is a civilian and that was intriguing. He told me he was on his way to the Leipzig  airport to pick up a cargo aircraft and fly a load of military material to the Mid-East area of operations. He works for a government contractor.
I didn't have much time, so I cut to the chase and asked him if they had a FOQA system installed in the big jet.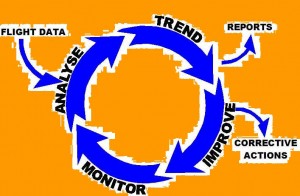 That question opened an unanticipated floodgate. In a too short five minute conversation (with me mostly in the listening mode) I heard all the bad stuff FOQA meant to this pilot and apparently most of the other pilots in his company.
What could be wrong with gathering flight performance data and using that data to track trends?
"Nothing is wrong with that part of the program. But our company uses the reports to threaten or even discipline our pilots."
"How can they?" I replied. "The data is supposed to be de-identified."
"Right," he said. Our company found a way."
At that point my train arrived and  I had to jump aboard. As I walked away I heard the pilot say to his buddy, "Fo-qua. What a load of …"
FOQA data can be linked to specific  crews  in unique situations where there appears to be repeated or willful violations of certain Standard Operating Procedures. And the data can be used to design improved training. In very rare cases it can be used to remove a dangerous pilot from the cockpit.  That is an acceptable use of FOQA  as part of a Just Culture.
But if a company regularly uses FOQA data to openly leverage flight or maintenance personnel it will destroy all potential gains in a short period of time.
What is more important is what that kind of approach says about a company's overall culture. These pilots obviously distrusted the motives of their leaders. They had no problem voicing concern to a stranger.
A strong safety culture based on the concepts of a "Just" culture will almost always pay huge dividends. Employees (especially pilots and maintainers) will be more productive  and  committed. And that will most certainly improve the bottom line.
I'm interested in what you have encountered. Hit the comment button and become part of the conversation.
Keltner sends (from the road)